FUNGINIX is the single best combination of anti-fungal agents, essential oils and fungus-fighting extracts. In order to create the most powerful anti-fungal solution, we at Sisquoc Healthcare took the best of research from both traditional and herbal medicine on how to battle the fungus that can attack and destroy healthy nails. View our ingredient list.
ACTUAL FUNGINIX USER IMAGES*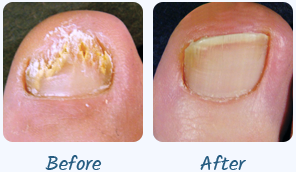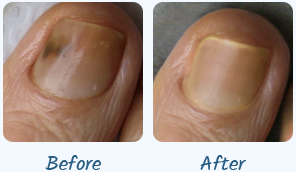 After comparing and contrasting the effects of various combinations, we came up with our unique blend of active ingredients like undecylenic acid, herbal remedies like camphor and essential oils like tea tree oil. In addition, the creamy texture of FUNGINIX allows it to be more readily absorbed into surrounding and affected skin than a simple lacquer or liquid. There is simply no other topical solution created to treat the fungus around fingers and toes that is more effective and complete. How Funginix Works.
---
Customer Testimonial*
"I've tried so many things for my hideous nail infection & nothing did what it claimed to do until I tried Funginix!!! I use to wear closed in shoes, so ashamed of my black & yellow broken & cracked toenails, & now 3 months has passed & my natural nail has grown stronger than ever and a beautiful white nail to match!!!"
-Lauren B.